Brand New Website Upload!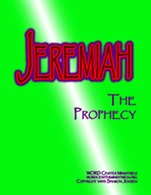 The audios for JEREMIAH—The PROPHECY are now online!  Free access to downloadable Inductive Bible Study resources (both the Observation Bible Study Guide and the Audio Expository Teaching) are available to everyone!
1. You now have access to over 54 hours of "verse by verse" Audio Expository Teaching on every single verse in the Book of Jeremiah (all 1,366 of them)!
2. The Observation Bible Study Guide for JEREMIAH—The PROPHECY has been available for awhile—over 500 pages of the 5 W's & H (Who, What, When, Where, Why, and How) asking inductive questions about every one of those 1,366 verses in Jeremiah!
Major Upcoming Website Uploads!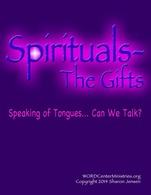 SPIRITUALS—The GIFTS Speaking of Tongues… Can We Talk?
It's that squally question of the ages, "Are Tongues for today?" Guess what? We found the equable conclusion! "Where at?", you ask. "What's the answer???", you scream!
Hold on… Hold on... We got it straight from the One Who knows—GOD! We take all the doctrine the Bible has to hold on the subject of Spiritual Gifts and observe it inductively. We then take you verse by verse through each and every doctrinal segment the Bible has to offer on Spiritual Gifts.  (We do not elevate events to the level of teaching or doctrine—instead, we thoroughly study the doctrinal teaching on the subject, leaving you to let God explain the events in His Word to you, Himself.)
The format is different than our Observation Bible Study Guides. (We are by no means dropping our OBSG format, in fact, Lord willing, we hope to finish all 66 books of the Bible for you in a timely fashion. We just thought this subject and style were a perfect fit.) Although we ask observation questions about every single verse, we also answer them all by showing you the answer in the Word of God. This book is a sit-down and enjoy-yourself-immensely afternoon read! If you had read this book already, you wouldn't be able to wait to read it… that is, if you hadn't read it already… er.. well… Anyway, you are going to want to read this book!!! It is making its way through the proofing, editing, and producing processes right now. Estimated date of publishing:  Fall(ish)  
Honestly, we haven't been this excited to produce a new product magnifying God's Word, well… since the last time we produced a new product magnifying God's Word. Oh... I see this is not quite conveying our true excitement, but we wanted to give you a heads-up so you could get excited too. Try! Your excitement won't be disappointed… and neither will you! Oh, and about that equable conclusion… it's in The BOOK (and ours, too!)
BTW—I am trying to convince Caleb to let me put a sample chapter online to help you catch the fascinating flavor of this delightfully engaging book.  If you agree with me—send Caleb a mushy-pushy type of email at info@WORDCenterMinistries.org and let him know how you feel—it just might push him closer to our point of view!  (He's kind of a sweet-type of push-over anyway!)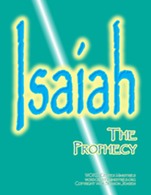 The entire book of Isaiah, all 66 chapters, verse by verse, will be available in an Observation Bible Study Guide by the end of the summer. ISAIAH—The PROPHECY has taken over 8 years to write.  There is nothing quite like it anywhere else that we know of.  We ask Who, What, When, Where, Why, and How questions of each and every one of the 1,292 verses in Isaiah. The Word speaks for Itself.
Recent Website Uploads and Updates!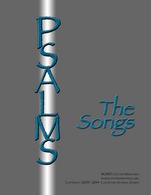 While you are online, check out the beginnings of our newest book of the Bible collection: PSALMS—The SONGS. This new collection previews with Observation Bible Study Guides for Psalm 12, Psalm 99, along with Psalm 83. (Pay particular attention to the nations in the Psalm 83 study—you might just notice some of today's players in the world!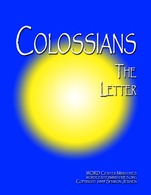 Colossians has a brand new Observation Bible Study Guide called—(surprise!) COLOSSIANS—The LETTER, which you can print for both personal and group studies.
COLOSSIANS—The LETTER downloadable Expository Teaching Audios are also available.
New Audio teaching materials online also include: 1 Kings, 2 Kings, Daniel, Luke, John, Romans, Ephesians, Colossians, 1 Timothy, 2 Timothy, 1 Peter, 2 Peter, and Revelation with even more on the horizon—like Ezra, Nehemiah, and Esther.
Additionally, we have recently updated the materials for all 12 Minor Prophets: Hosea, Joel, Amos, Obadiah, Jonah, Micah, Nahum, Habakkuk, Zephaniah, Haggai, Zechariah, and Malachi. The audios are now downloadable, as well as being fully edited (i.e. better sound quality).
And, on top of all that, we are now recording our teaching sessions on video, as well as audio.  Ezra is one-half done and Revelation is the other half done! (Go figure!) They, of course, will be downloadable for your study convenience.  Look for these valuable new resources sometime this winter.
HIStory Now In Print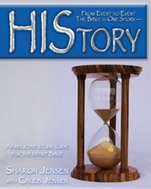 HIStory, an Observation Bible Study Guide for the entire Bible is, without a doubt, the most important work we have ever done! History is HIStory! 
Over 13 years in the making and HIStory is finally published.  Not only is it published, but it's being sold at a very reasonable price ($19.95 plus shipping for a 438 page text book).  If you haven't checked out HIStory you really should. It's an observation of the whole Bible, using the inductive study method, showing that event after event the Bible is really only One Story—HIS Story!
It can be purchased through our store (just use the red "Store" button), or at Amazon. Click here to go the Amazon HIStory page.
YouTube
We are finally up on YouTube!  Well... we have five videos up,  but tons of others waiting to be uploaded!  Oh, and Maskil, WORD Center's musical outreach, has videos up, too!
As time goes on you will find more and more excerpts of Inductive Expository Bible Teaching covering each book of the Bible.  You will also find special subjects that need to be spoken aloud to the church at large—all taken straight from Scripture. We don't use Scripture to teach—we teach from Scripture!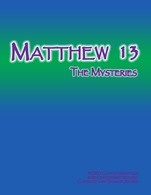 Check out our sample video below, which was adapted from the audio series MATTHEW 13—The MYSTERIES.
Click on the YouTube page (under Blogs & Videos) to view the rest.